When doing nature photography you have the following options for lighting:
Natural sunlight
Reflectors (using sunlight)
Ring flash
Macro flash
Normal flash
Flash on the camera
Flash off camera on connector cord
Natural sunlight for nature photography
For photographing flowers and some subjects it is better to have open shade rather than direct sunlight. In direct sunlight you may have too much reflection (more than you can control with polarizing filter). Also with too much direct sunlight you may have over-saturation of many colors.
But for other subjects, where you need light and shadow to bring out texture, more sun may be needed. So whether natural sunlight is preferable depends on the subject, and how much sun is shining (and at what angle).
Work conditions for the evaluation of the three different flash systems
It was a weekend; our entire team had just been photographing in Antigua Guatemala and earlier elsewhere. So they all had to return to their families (in all of Latin America people are family oriented; you tend to have Sunday main meal with your grandmother (as did we in Missouri when I was a child).
Since I have no family in Guatemala, I tend to work on my own during the weekends. So no one to hold any reflector. The sun was setting, so no time to set up clips to hold a reflector. And a lot of vegetation in front of the nest, so reflectors would not be easy to place anyway.
Because the sun was going down relatively fast, and because it is always best to have the sun over your shoulders, the camera created its own shadow on the wall. So I had to put the camera to one side to get rid of the shadow.
Summary: what kind of flash is best for macro-photography?
The initial question can be answered in various ways
Ring-flash produced beautiful results; unlikely to have mistakes (ring is always a ring)
Macro-flash can be off-center; either one or both of the flash heads can be incorrectly situated (inaccurately aimed).
Normal flash can obviously only be in one place at one time…. But. But you can use reflectors (if you have an assistant or time to set one up with a clip or comparable). And, the normal flash can easily be moved. So you can aim the flash to illuminate down inside the entrance tunnel.
Ring flash and dual-lamp macro-flash both hit from the sides. So you don't get much light from the front.
In effect each flash produces great results. So all three are winners. In other words, if you are doing insect photography (or flower photography), you should have three different kinds of flash. Each kind of flash equipment will produce different results.
And ideally a fourth, namely wireless slaves. With a wireless slave you can also get back-lighting. We will experiment with wireless slaves later.
Even though stingless, these bees can attack
These bees have a very interesting defense behavior, since their sting apparatus is reduced or absent. I have been attacked only once, when I was photographing the lower tube entrance on a tree which also had a second tube entrance a meter above, my head was in the flight path of the upper colony but I was focused so much in taking the photo of the lower colony that, I didn't realize that my head was in the flight path of the upper bees.
---
The bees buried in my hair and were sufficiently irritating, I had to stop photographing and move from the territory of both colonies.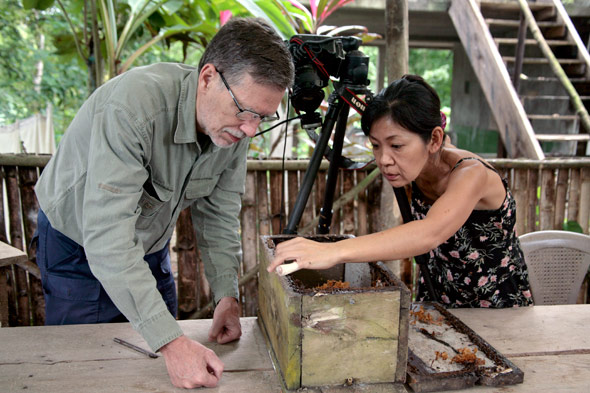 ---
Ants, wasps, and bees are socials insects; they tend to attack in groups as a defense of the nest. Some stingless bees take special care to fly into the hair, eyes, ears or mouth, and tend to emit distressing sounds to defend the entrance area; Maybe I was obstructing the entrance of the colony, so that's why they attack me.
Be considerate to the bees, and to their environment
Stingless bees and Honey bees; need flowers, and a place to nest, they have a very important role in crop pollination; they visit a broad range of plant species, especially flowers.
Natural vegetation can influence in the abundance of stingless bees, more than 1000 plant species are cultivated for different uses (food, beverages, house building material, fibers, species and medicines). Almost the half of these plants is pollinated by the bees, most of them by stingless bees.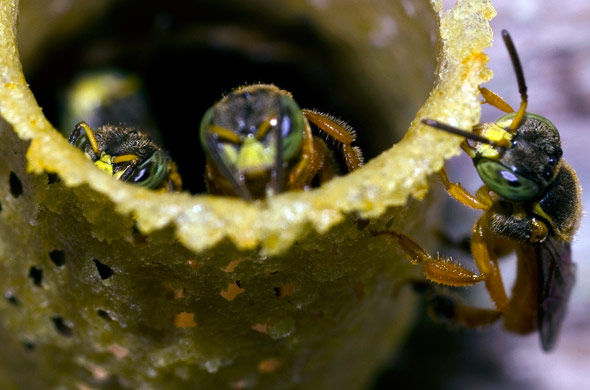 ---
So bees are not just here to produce honey or wax, they have a very important role, maintaining the vegetative diversity and structure of the ecosystem, also the diversity of the crops we use.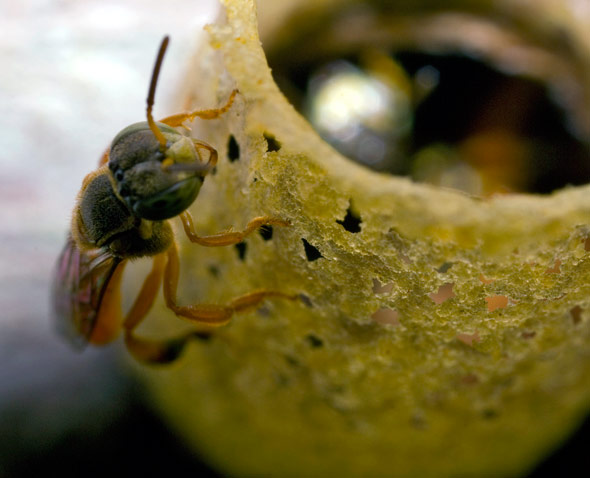 ---
Now that you know the importance of the bees for us, if you intend to harvest honey or wax, please do this without destroying what the bee colony needs.
First posted March 2012.