Starting a 5-year Project to find and photograph all waterbirds of Peten
In May 2021 we (FLAAR in USA and FLAAR Mesoamerica in Guatemala) were awarded a 5-year project of cooperation and coordination with CONAP to study, photograph, and prepare educational reports on the biodiverse ecosystems of Peten. Naturally we are focused on fragile ecosystems and endangered species. But we are also interested in finding and photographing all waterbirds in order to make these photos available to iconographers and epigraphers who are studying Classic Maya art. For example, I have discovered that the male white pelican is the model for a three-dimensional stone sculpture of a bird-eating-a-fish.
So month by month, year by year, we will be looking for residents and migratory waterbirds of Guatemala. Good place to find both is in Peten such as Sayaxche area rivers and lakes, Rio San Pedro (Las Guacamayas area). However we also do comparable bird photography in Lake Atitlan and Monterrico area rivers, lakes, and mangrove swamps parallel to the Pacific Ocean. This year (2021) we have photographed lots of waterbirds in the Caribbean coastal area of the Municipio de Livingston, Izabal (as part of our 15-month project in this area).
In all areas of Peten we will be cooperating with local bird watchers, local park rangers, and all the local nature reserves to learn which species of birds are in which area in which month. For example, in May 2021 there were almost no waterbirds around the edge of Lake Yaxha, in part probably because the shore feeding area had been totally flooded this year. But our team was able to find and photograph the two anhinga birds here.
---
Parque Nacional Yaxha, Nakum and Naranjo is great place for birders
Lots of different waterbirds can be found in Parque Nacional Yaxha, Naranjo and Nakum, especially around Lake Yaxha. Take a boat towards Topoxte Island. There are several places you can get boat service: the visitor's center after you to through the entry area (to the left). Or if you are staying at the hotel Ecolodge El Sombrero they have boat service by reservation also.
We also go up Rio Ixtinto (on the other side of Topoxte Island. But that's mainly to see the boat-billed heron on the right side of the river (hidden in branches). This bird is the logo bird of Olmec kings and gods (of Tabasco and Veracruz, Mexico) and a logo bird of Teotihuacan imperial military and trading outposts in the Costa Sur area of Guatemala. Curiously the boat-billed heron, Cochlearius cochlearius, is not usually pictured by the Classic Maya.
Be sure to hire a local registered guide. Many of these guides know local birds quite well. If you are member of a bird watchers group, club, or society, be sure to stay at least two days at Yaxha since you want to see the birds up in the trees on the hilltops as much as the waterbirds around the lake.
I must admit that in addition to waterbirds I like to see the King Vulture; bird watching guide Teco (Moises Daniel Perez Diaz) showed me the Sarcoramphus papa gliding high above the hilltop at the west end of Lake Yaxha. Rather obviously you will not see every bird unless you stay enough days and have experienced bird watching guides from the local area.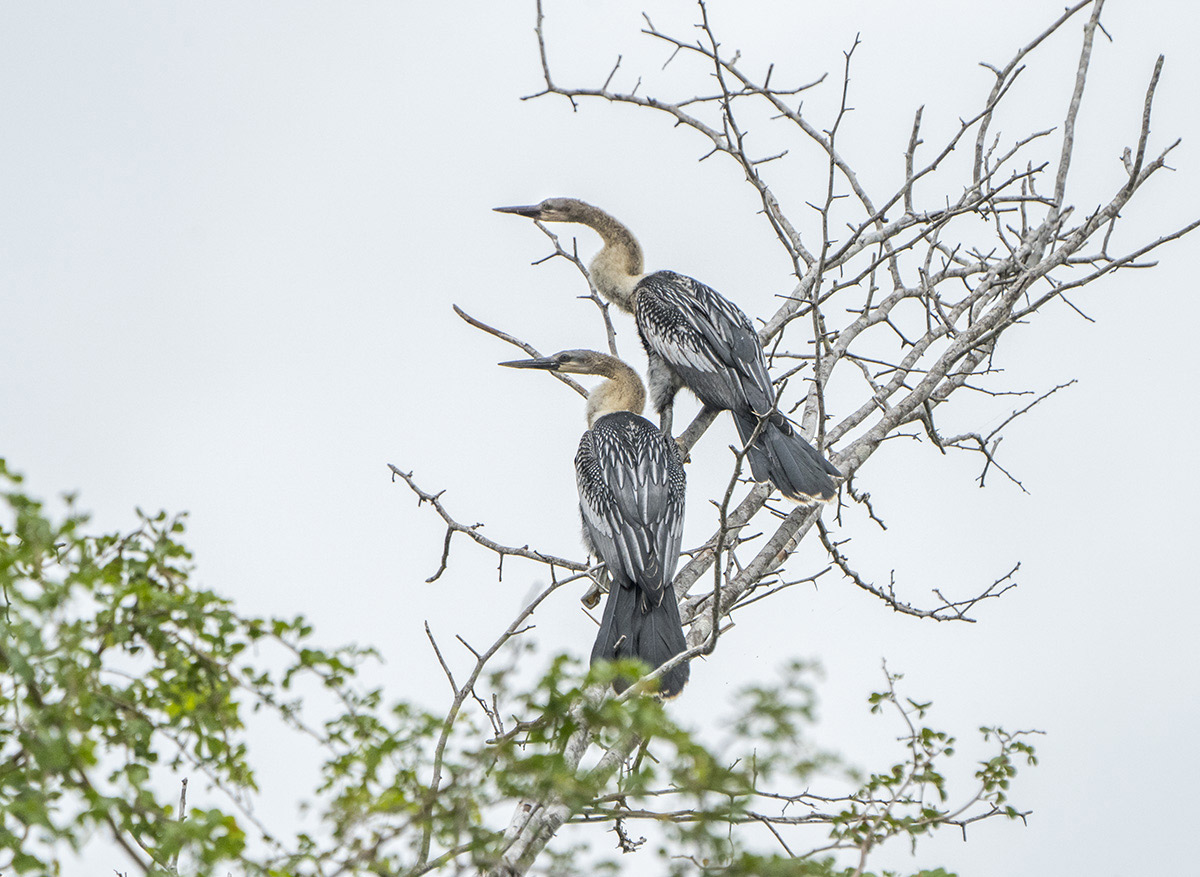 ---
A. anhinga, often called snake bird, water turkey or pato aguja (in Spanish), is a waterbird that lives in various countries of América. It can be found in bodies of water that are surrounded by abundant vegetation, such as mangrove forests or both rivers and lagoons with abundant tree-species associated. In fact, anhingas inhabit ecosystems with these characteristics because they need perching sites to sun dry their bodies after they feed in the water. This occurs because their feathers are not waterproof; instead, they get waterlogged which allows them to submerge in the water and look for prey. For that reason, they can be easily seen perching in tree branches and with their wings opened.
One of A. anhinga's characteristic feature is their snake-like neck. In addition to the fact that while they swim only their neck is visible above the water, this feature lent to their common name: snake birds. The "s" shape of their neck is also a key characteristic for them to have developed the "darting" motion which they use to stab fish and other prey. In conjunction, all these traits and behavioral components called the attention of pre hispanic cultures and conferred these birds a mythological meaning as mysterious creatures.
The following bibliographical references and links collect diverse scientific data of different aspects of A. anhinga; from how they can be ecological indicators on the effects of chemical pollution in waterbodies, to what sustains their color pallet and how does their coloration may affect their behaviour, plus more.
PDF, Articles, Books on Anhinga anhinga
Suggested web pages with photos and information on Anhinga anhinga
www.damisela.com/zoo/ave/otros/pelecan/anhinga/anhinga/index.htm
Information
www.planetofbirds.com/pelecaniformes-anhingidae-anhinga-anhinga-anhinga
Information.
http://ecobiosis.museocostarica.go.cr/especies/ficha/2/3130
Information.
www.allaboutbirds.org/guide/Anhinga/id
Photos and information.
https://animaldiversity.org/accounts/Anhinga_anhinga/
Photos and information.
http://datazone.birdlife.org/species/factsheet/22696702
Map location.
www.cepf.net/sites/default/files/final_birdlife_identifyingibas.pdf
Information, page 36.
www.avesdeguatemala.org/iba/IBA_Guatemala2007.pdf
Information, page 55.
www.sites.google.com/site/barrierislandecology2013/impacts-of-terrestrial-fauna/anhinga?overridemobile=true
Information, photos and videos.
www.marn.gob.gt/Multimedios/19253.pdf
Information from "Área de Uso Múltiple Marino-Costera Monterrico", Guatemala; page 66.
www.marn.gob.gt/Multimedios/19244.pdf
Information from "Área de Uso Múltiple Marino-Costera Hawaii", Guatemala; page 69.
http://biblioteca.usac.edu.gt/tesis/24/24_0201.pdf
Information from "Parque Nacional Sipacate-Naranjo" Guatemala, page 16.
https://biblioteca-farmacia.usac.edu.gt/Tesis/EPSB203.pdf
Information from some of the wetlands in the Pacific Coast of Guatemala.
https://lac.wetlands.org/wp-content/uploads/sites/2/dlm_uploads/2019/05/Manomet-CAWC-Final-report-2019.pdf
Species list from the 2019 Central American Waterbird Census.
https://rsis.ramsar.org/RISapp/files/3045222/documents/SV1935lit2011.pdf
Species list form "Complejo Jaltepeque", El Salvador; page 24.
www.researchgate.net/profile/Alexis-Cerezo-Blandon/publication/
280632715_LISTADO_ECOLOGICO_DE_LAS_AVES_DE_LA_
REGION_CARIBENA_DE_GUATEMALA_DEPARTAMENTO_
DE_IZABAL/links/55c05fd008aec0e5f4477b83/LISTADO-
ECOLOGICO-DE-LAS-AVES-DE-LA-REGION-CARIBENA-DE-
GUATEMALA-DEPARTAMENTO-DE-IZABAL.pdf
Species list from the Caribbean Region of Guatemala.
https://kipdf.com/propuesta-tecnica-corredor-biologico-costa-sur-canal-de-chiquimulilla_5ac5981f1723dddf7a870334.html
Species list from the South Coast of Guatemala, page 48.
www.researchgate.net/publication/303882937_An_ichthyological_survey_of_Laguna_del_Tigre_National_Park_Peten_Guatemala
Information and species list from "Parque Nacional Laguna del Tigre", Guatemala; pages 59, 153, and 208.
www.plazapublica.com.gt/sites/default/files/doc_2_pdd_ccbguatecarbon_v.8.2.pdf
Species list from "Reserva de la Biosfera Maya", Guatemala; page 182.
https://visityaxha.com/diversidad-biologica/
Species list from "Parque Nacional Yaxhá, Nakum y Naranjo", Guatemala.
https://rsis.ramsar.org/RISapp/files/658/documents/GT1016mgt_SP.pdf
Species list from "Área de protección especial Punta de Manabique", Guatemala; page 30.
https://conap.gob.gt/wp-content/uploads/2019/09/1667-R%C3%ADo-Sarstun.pdf
Species list from Río Sarstún, Guatemala; page 57.
https://rsis.ramsar.org/RISapp/files/657/documents/GT813mgt_SP.pdf
Species list from "Refugio de Vida Silvestre Bocas del Polochic", Guatemala; page 83.
www.yumpu.com/es/document/read/25669275/antecedentes-de-tikal-rareplanet
Species list from "Parque Nacional Tikal", Guatemala; page 10.
www.oiseaux-birds.com/card-anhinga.html
Information and photos.
www.coterc.com/uploads/1/6/1/8/16182092/anhinga.pdf
Information
https://joelsuch.com/tag/peten/
Photograph.
https://petenenfotos.blogspot.com/2019/11/pato-aguja-en-el-lago-peten-itza.html
Photograph.
www.flickr.com/photos/93959689@N07/49353833662/
Photograph from Petén Itzá, Guatemala.
https://animaldiversity.org/accounts/anhinga_anhinga/
Information
https://books.google.com.gt/books?id=7NjEe2vBYngC&pg=PA98&
lpg=PA98&dq=pato+aguja+pet%C3%A9n&source=bl&ots=8YVz6
f14Zf&sig=ACfU3U1_hx3UtTVecNgqE-gc_sc-zB1fhA&hl=
es&sa=X&ved=2ahUKEwjT3IiVoK7xAhXoRt8KHTo-BSoQ6AE
wEnoECBAQAw#v=onepage&q=pato%20aguja%20pet%C3%A9
n&f=false
Photograph and information, pages 99, 101.
www.parque-tikal.com/#!/tough
Photograph and information.
www.bu.edu/holmul/reports/2004_HOLMUL_interim.pdf
Photograph from Maya iconography, cover page.
https://glifos.umg.edu.gt/digital/86663.pdf
Legal information of the environmental law applied in Guatemala.
www.gbif.org/es/dataset/800ea6f6-f762-11e1-a439-00145eb45e9a
Cientific collection from the Natural History and Ecology Institute (IHNE), Chiapas.
Last update June, 2021.
First posted August, 2019.
Bibliography prepared by Marcella Sarti, updated by Sergio Jerez, FLAAR Mesoamerica.