Photographing Lesser Yellow-Headed Vulture, Cathartes burrovianus
To photograph vultures, if they are not too far away, I use a Nikon D5 camera with Nikkor 600mm prime lens, on Wimberley WH-200 gimbal tripod head II, on a sturdy tripod by Gitzo. I prefer Nikon D5 since it allows high ISO so I can use high speed (though in this case the birds were comfortably perched atop trees, as is the habit of many vultures when they are not up in the sky circling around).
I was inside a boat which of course rocks from side to side, but the images are more or less acceptable. Had to use 600mm lens since the birds were high up in trees and the trees were rather far from the boat. In 2017 we did not yet have an 800mm prime telephoto lens for our two Nikon cameras.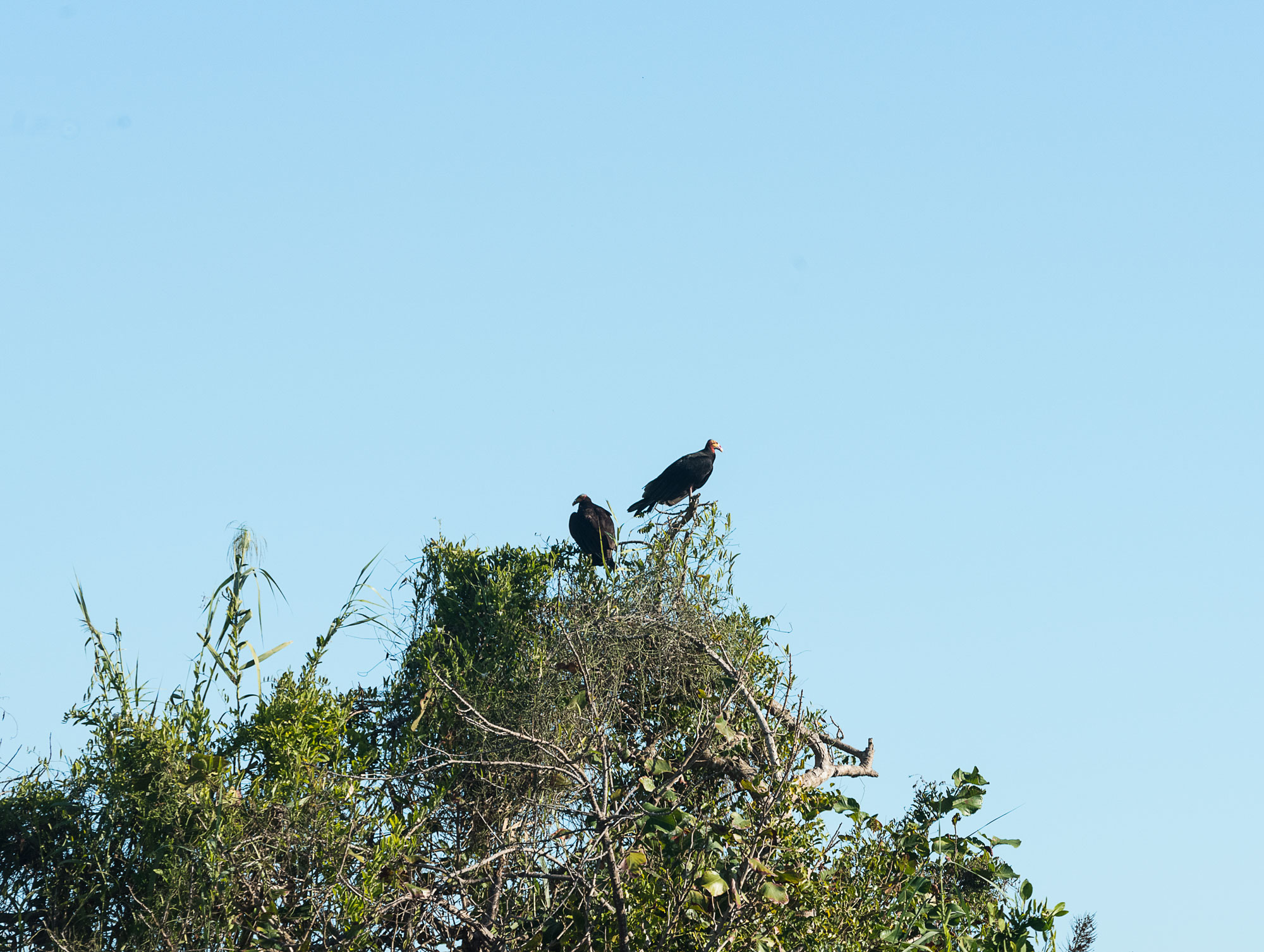 ---
The elite bird book author, Roger Tory Peterson says: "Not reported for Guatemala."
But if you do birdwatching in Guatemala, in-person, for years, you will definitely find the Lesser Yellow-Headed Vulture, Cathartes burrovianus in Guatemala. We found two of them this week in the same grove of trees overlooking the swamps alongside the Canal de Chiquilumilla, Monterrico (parallel to the Pacific Ocean coast of Guatemala, Central America).
There are also plenty of web sites which report the Lesser Yellow-Headed Vulture, Cathartes burrovianus for Guatemala. Now we can add our own personal sighting, confirmed by the nice photographs.
Since there is both an English and a Spanish version of their respected and helpful book, the date and page number may not correspond. But it was surprising that 18 years ago they were not aware of sightings of the Lesser Yellow-Headed Vulture, Cathartes burrovianus in Guatemala.
The edition I cite is "A Field Guide to Mexican Birds: Mexico, Guatemala, Belize, El Salvador" (Peterson Field Guides), 1999.
Also a prominent web site on birds does not list the Lesser Yellow-Headed Vulture for Guatemala
Today (Dec 21, 2017) I was looking for references to vultures, and on the nice www.word-birds.com, under Guatemala, I could not find the Lesser Yellow-Headed Vulture.
The page is www.world-birds.com/birds/a/guatemala.
The king vulture, Sarcoramphus papa, was also not listed in the Cathartidae section for Guatemala. That is not much of a surprise, as they are extremely rare. But also I would not be surprised if in fact you could find some.
---
Habitat of Lesser Yellow-Headed Vulture is marshes and woods near water
Peterson and Chalif correctly state that the habitat of the Lesser Yellow-Headed Vulture is: Damp grasslands, marshes, savannas, broken patches of woods near water. (2008:25). That is precisely where we found the two birds: in trees overlooking tule rush swamp area.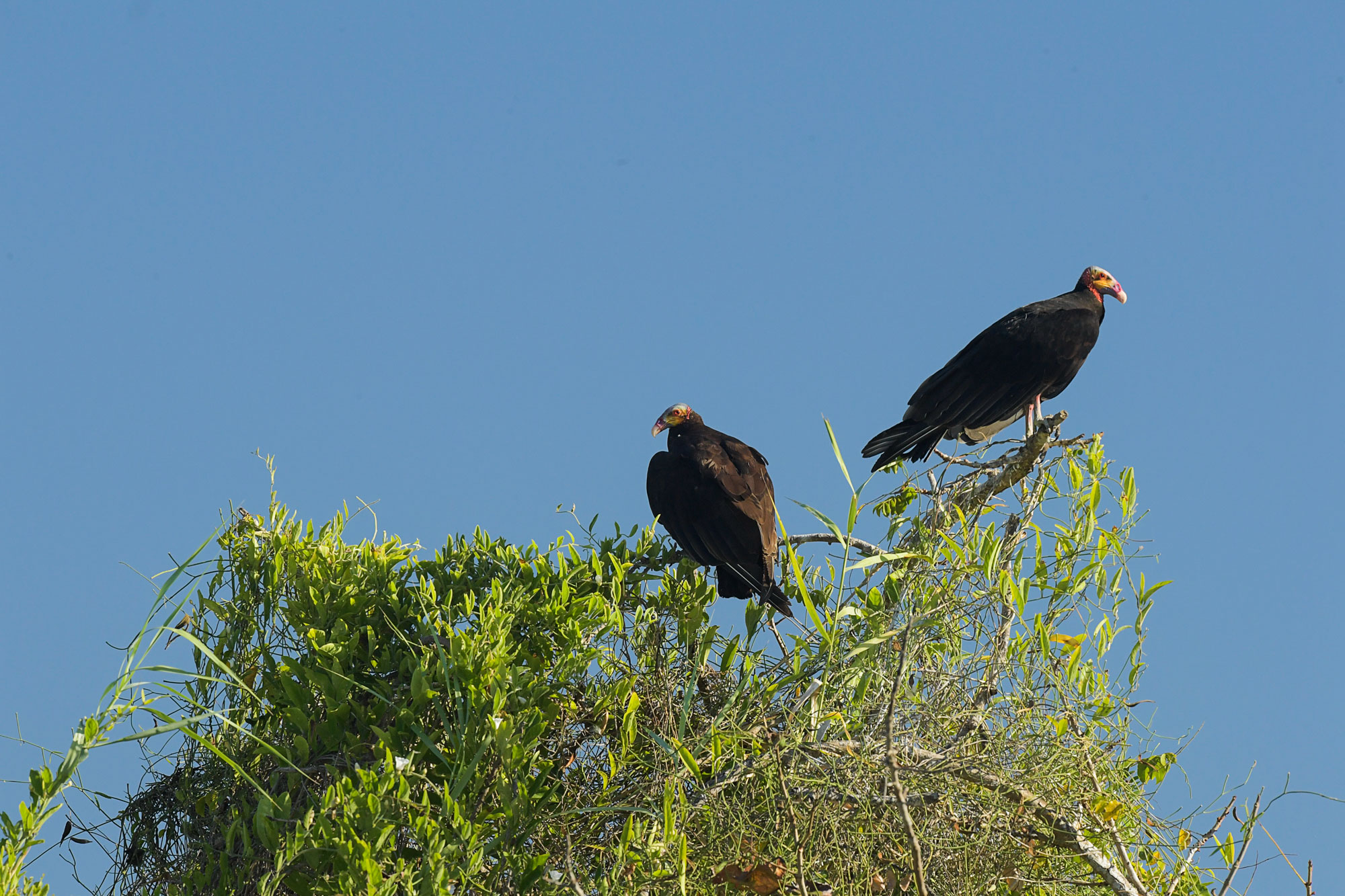 ---
A bibliography of Cathartes burrovianus, Lesser Yellow-Headed Vulture, is on this web page:
https://neotropical.birds.cornell.edu/Species-Account/nb/species/lyhvul1/references
We will be working on a more recent and more complete bibliography. We have lots of bibliographies for plants and animals on the ethnozoology site where you are now reading, plus on our
www.Maya-art-books.org.
Canal de Chiquilumilla is protected by CECON
CECON works hard in several endangered eco-systems to help the plants and animals. Here in Monterrico they also help the iguanas and caimans.
Axel Cuéllar, of CECON, has been out guide for the plants and animals of the entire Monterrico area each year for about nine years. Also assisting on this particular educational field trip was birdwatching guide Alejandro Sagone.
If you wish to have an internationally experienced birdwatcher as your guide, Alejandro is available for private birdwatching tours in Guatemala (or elsewhere in Latin America where he has experience). He also knows orchids and other plants.
This year we went with about 23 of the FLAAR Mesoamerica staff: the students who help in our plants and animals research.
Most recently updated June 11, 2019.
First Posted mid-December 2017.