Posted Dec 21, 2017
All the reliable bird books on birds of Mexico, Guatemala, etc, carefully list four different vultures:
The black vulture, Coragyps atratus, is by far the most common: I see it in many parts of Guatemala and adjacent Honduras. We show photos of this black vulture on this web page of ours. And also in our article in REVUE magazine:
The King Vulture, Sarcoramphus papa, I have never seen in the wild in 54 years in Mesoamerica. I see it only at La Aurora Zoo. If you are a dedicated birder and have time to look specifically for this species eventually you can find it in the wild.
The Turkey Vulture I see frequently when driving through Guatemala (for decades; I first came to Mexico at age 16 in 1961 and to Guatemala at age 17 in 1962).
The Lesser Yellow-Headed Vulture I rarely notice, but this week we found two overlooking the Canal de Chiquilumilla, Monterrico area, Pacific Coastal area of Guatemala, Central America.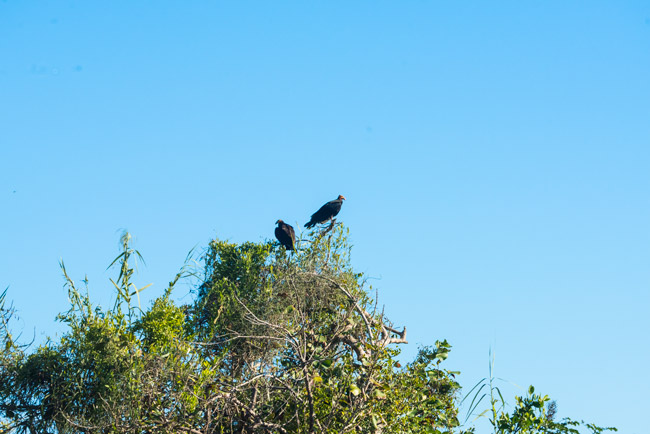 ---
I photographed these with a Nikon D5 camera:
Lens: AF-S NIKKOR 600mm f/4E FL ED VR
ISO speed: ISO-2500
f/stop: f/11
Exposure Time: 1/640 sec.
Tripod: Gitzo (a serious professional model of theirs)
Tripod head: Wimberley WH-200 Gimbal Tripod Head II