Posted May 8, 2018
Bird are waiting for you at the Parque Nacional Yaxha Nakum Naranjo. I can remember seeing the antbirds enjoying their feast of insects trying to flee the invading army ants (the antbirds can hear the noise of thousands of insects hopping, jumping, flying to try to escape the massive army of ants). The antbirds simply have the bugs jump into their mouths.
This experience with antbirds comes from having lived at Yaxha for five annual seasons (1970-1974) while preserving the ecosystem by working to create a national park here. FLAAR also worked together with archaeologist Miguel Orrego to map the entire site of Yaxha (and update the Harvard map of Nakum).
In mid-April 2018 I returned to Yaxha to visit with the park administration team, to donate printed material for their museum and for schools, and to discuss how FLAAR could help the park's program to raise awareness about protecting the fragile eco-systems of the seasonal Neotropical seasonal rain forests of this part of Mesoamerica.
Bright-colored birds were hopping from branch to branch in the trees over the hotel Ecolodge El Sombrero, adjacent to the entrance to the park. Inside the park, there were reports of the King Vulture, a gorgeous bird that is almost never visible elsewhere. The very knowledgeable park ranger (Teco) knew all the birds and precisely where to find them and what hour of the day.
If you sign up for a boat trip, then you can see and photograph all the waterbirds. So there is a lot to see at Parque Nacional Yaxha Nakum Naranjo in addition to the Mayan temple-pyramids, palaces, ball courts, and causeways.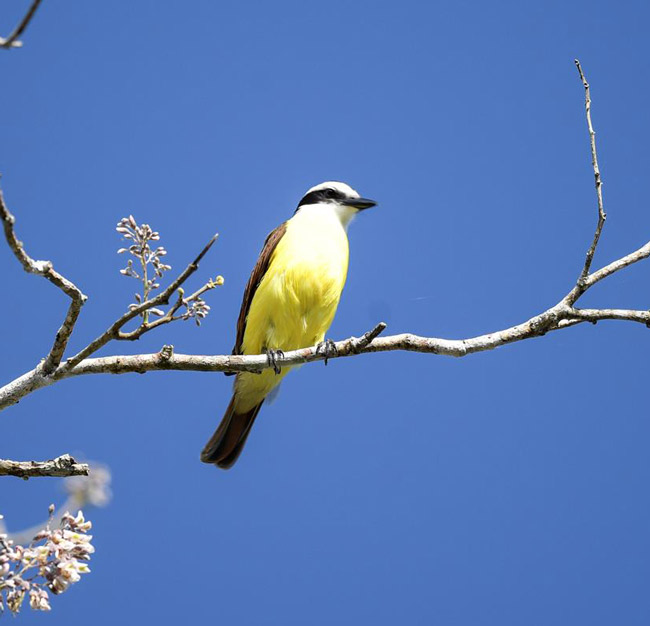 ---