Posted January 14, 2013
We are pleasantly surprised, in the middle of the suburbs of Guatemala City, at 1500 meters elevation, to find a nice specimen of a bat (caught alive, and released alive, by our gardener). The photographs are by Sofia Monzon, of the FLAAR Mesoamerica photo team.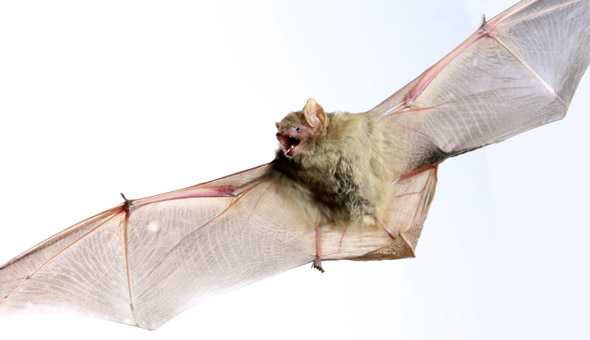 ---
Already we raise tailless whip scorpions, and real scorpions; diverse spiders (both inside and outside the office), meliponia (here, very tiny stingless bees), monarch and other butterflies, and a very rare miniature snake (looks like a worm; same size and shape as a worm but with head of a snake), plus opossoms and other local creatures.
We appreciate that Guatemalan bat specialist, biologist José Octavio Cajas Castillo, kindly took the time to suggest an identifation as either Lasiurus ega o L. intermedius, of the family Vespertilionidae (60 species of th is family en Guatemala). Understandably it would take personal inspection, in-hand so to speak, to ascertain which of the two species this specimen was. But to make sure the bat would stay healthy, we released it after photographing it. So we will have to find another to have time to allow José to get to the office.
Jose Cajas says these are insectivorous, amply distributed in Guatemala, but hardly ever available for study by biologists. Thus we are glad to have contributed scientific knowledge.
We do not allow the use of insect spray or other harmful chemicals in our ethnobotanical garden. We will now do additional studies to learn what kind of habitat will make these bats content to visit us, and learn what they need as a nesting area.