On the shores of Playa Quehueche in the northern direction of the municipality of Livingston, it was very curious to find different species of Arthropods. During the tour we stopped to photograph two very interesting species, since they were perched on the sand of the beach. One of them was an elegant Swallowtail butterfly of the genus Papilio (Papilionidae) and an imposing Luber grasshopper or lobster with intense red wings of the genus Taeniopoda (Romaleidae).
---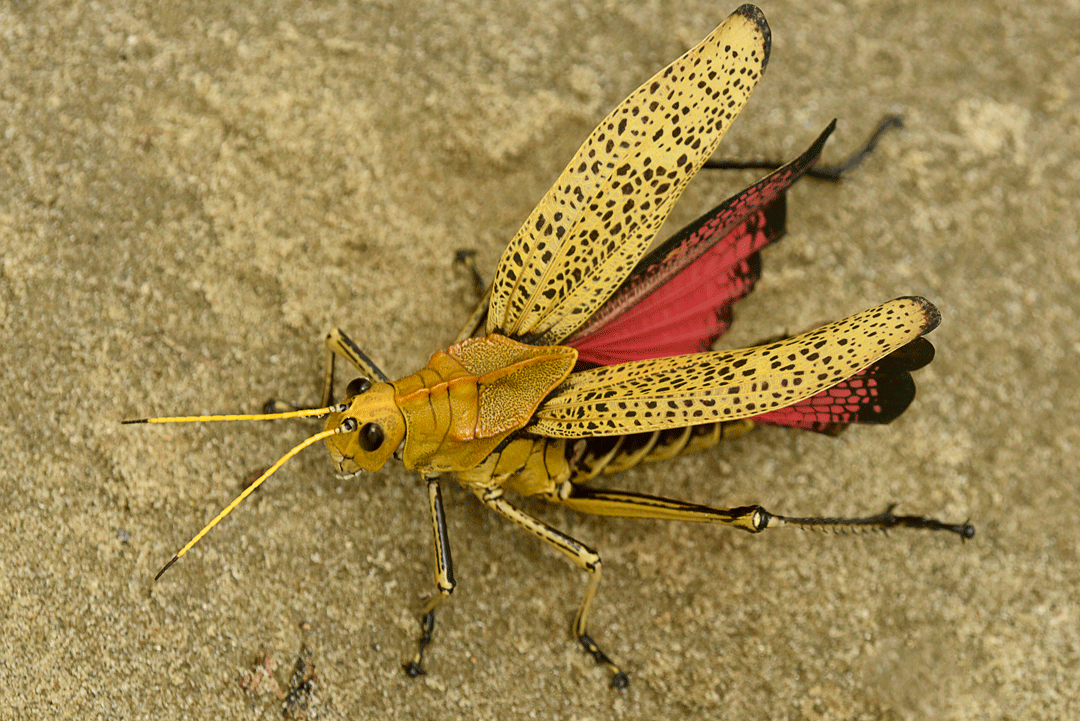 ---
Pamilionidae family includes more than 600 species worldwide. A particular characteristic of the Papilio genus is that most of all of these butterflies feature tails on their hind wings which resemble the tails of swallow family of birds, hence their name. Swallowtails butterflies feed on flowers, and can often be found in mud or damp sand where they sip dissolved minerals and salts. They beat their wings rapidly when feeding on nectar, as a balancing technique.
On the other hand, Romelidae currently consists of 64 genera and 437 species. Most Romaleidae grasshoppers are Neotropical and they are characterized by presenting an apical spine on the external surface of the posterior tibiae. The Romaleids have the largest acridoid species and body biomass known in nature. They have varied sizes, shapes and colors, and can be winged, brachioptera or, rarely, apterous (without wings).
Phylum
Artropoda
Class
Insecta
Order
Lepidoptera
Orthoptera
Family
Papilionidae
Romaleidae
Genus
Papilio
Taeniopoda
Common Name
Swallowtail butterfly
Horse Lubbers
References:
www.butterfliesathome.com/swallowtail-butterflies.htm www.scielo.org.co/pdf/rcen/v36n2/v36n2a27.pdf
Written by Vivian Hurtado & Roxana Leal
Identified Species by Victor Mendoza