Posted September 16, 2021
Upon returning from the documentation of species El Rosario community, an area of tropical forest in Tapón Creek, Livingston, our researcher Víctor Mendoza found a vine snake (Oxybelis fulgidus), which was on the trail. The snake was a bit scared but we managed to photograph it. This snake can adapt to a wide variety of ecosystems. From a dry forest to a very humid tropical forest. They are distributed from Mexico to southern Brazil and northern Peru.
It can measure up to 2 meters in length. Their eyes are large, rounded and yellow in color. Its body is slim, brown to gray in color. Its most striking characteristics are the tail and the mouth, since the tail can make up almost half its length, normally the adult specimens reach no more than one meter or a little more. Males have longer tails than females. The inside of its mouth is purple, this is noticeable since when it moves it opens its mouth to intimidate its predators.
The generic name Oxybelis is derived from the Greek words oxy, meaning "pointed" and belas, meaning "dart," in reference to the elongated head. The specific epithet is the Latin word aeneus, meaning "bronze, or copper" in reference to the body color of the holotype (Lemos-Espinal & Dixon, 2013).
Oxybelis aeneus is a diurnal tree species. It feeds on lizards, birds, frogs, insects, and mammals have also been reported. When on the lookout for prey, it rigidly holds its tongue out to sense the prey's presence. As a defense and predation mechanism, the snakes of the genus Oxybelis roll their eyes while they remain immobile, searching for their prey and monitoring their environment. These types of snakes are not adapted to bite large prey so it could be said that they are harmless to humans. According to the naturalist Miguel Álvarez del Toro. Although the bite is not fatal, it can cause local swelling, severe pain, and limb paralysis that sometimes lasts for a long time.
Taxonomy: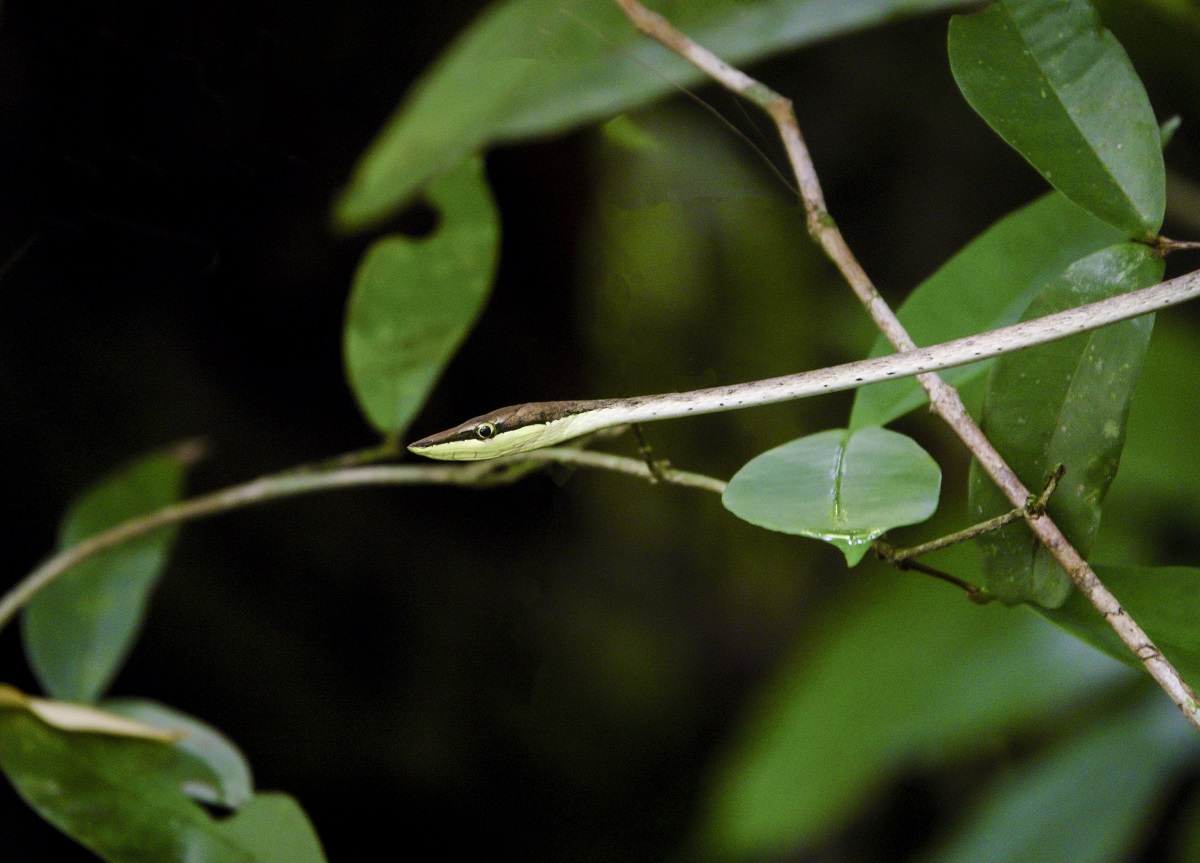 ---
| | |
| --- | --- |
| Kingdom | ANIMAL |
| Phylum | CHORDATA |
| Class | SAUROPSIDA |
| Order | SQUAMATA |
| Family | COLUBRIDAE |
| Genus | OXYBELIS |
| Species | OXYBELIS AENEUS |
When you walk on trails it is advisable to pay attention to where you walk and also try not to put your hands in the trees, since some snakes, such as the vine can be in the trees and could be confused with the vines. The team tries to wear rubber boots but we also have leggings.
References:
https://reptile-database.reptarium.cz/species?genus=Oxybelis&species=aeneus
Reptile database
www.anywhere.com/es/flora-fauna/reptil/narrow-headed-vine-snake
Written by Vivian Hurtado & Roxana Leal
Identified Species by Victor Mendoza