Posted October 7, 2015

---
On Oct 30th Dr Hellmuth will lecture on the creatures associated with the Surface of the Underwaterworld (2:30pm). This is the key part of the Maya cosmos, between "heaven" and "hell" so to speak. Nicholas spent eight years researching this topic to produce his PhD dissertation (Karl-Franzens Universitaet, Graz, Austria). All this work is available in a coffee-table book with 727 illustrations, Monster und Menschen, ADEVA, Graz (ADEVA no longer exists but we have a copy available for substantial benefactors for our continued research).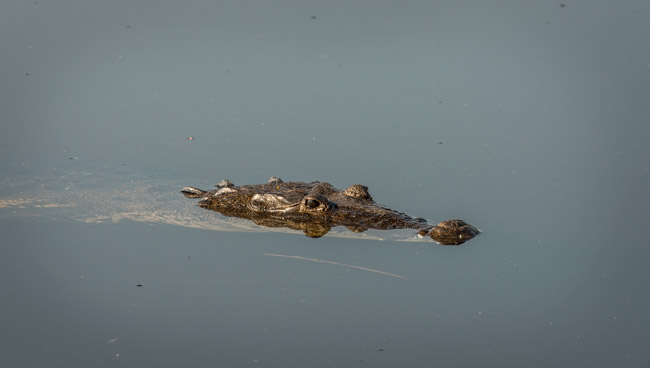 ---
To prepare for this lecture we went to the actual eco-system out in the tropical rain forests of Guatemala. And the local crocodile kindly cooperated to pose for a photograph directly in front of the place we were overnighting (Las Guacamayas Biological Station, Rio San Pedro Martyr, Peten, Guatemala).
The lecture will introduce all the creatures of the rivers and lakes, plus sea creatures of the Caribbean and the Pacific Ocean, which were the sources of inspiration for Mayan murals, sculptures, and painted ceramics (vases, bowls, and plates).
Lecture is at the Centro de Formación de la Cooperación Española en Antigua (Antiguo Colegio de la Compañía de Jesús), 6ª avenida Norte entre 3ra y 4ª calle Poniente, Antigua Guatemala.