Posted Feb. 25, 2019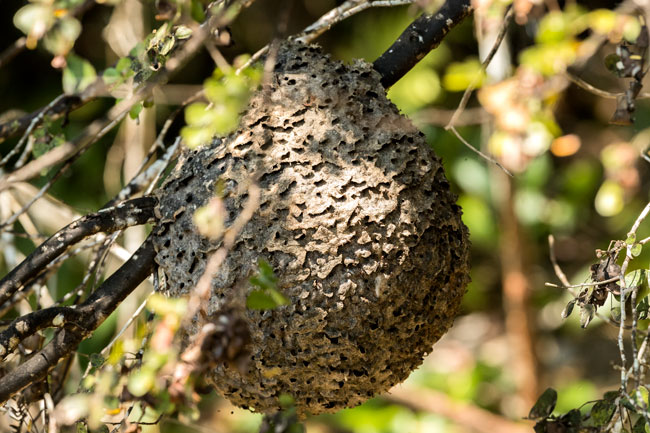 ---
Yes, several species of ants of the Mayan areas of Guatemala make their nests in trees. Of course endless Mesoamerican area species also make nests underground. But we have found two kinds of arboreal ant nests at Parque Nacional Yaxha Nakum Naranjo:
Light-colored, using leaves to hold nest onto the branches
Dark brown, almost black, ant nests hanging from limbs
In both cases you often get a "colony": we have found three to six leaf-pendant arboreal ant nests within a few meters of each other (on different trees). Last week at Parque Nacional Yaxha Nakum Naranjo we found over 40 dark nests on about four different trees which were near each other. These dark nests were often more than 6 per individual tree. I have seen even more along the Rio Polochic, Izabal, Guatemala: dozens or even scores of nests in adjacent trees, high above the ground.
We also occasionally find nests of both species within 3 to 4 meters of the ground when the limbs are leaning over the shore of Lake Yaxha.
As soon as funding is available we will publish all the high-resolution photos of each and every nest, but now we at least want to get this NEWS item posted.